In a country so hot, and with such sugar hunger, you'd think the frozen dairy dessert field in Abu Dhabi would be crowded. But the United Arab Emirates is a relatively new country, with few home-grown stores, so imported chocolates and native dates dominate the sweet shops. When it comes to ice cream, a dozen kinds of Baskin Robbins is all there is. In grocery stores, there's Häagen–Dazs too, but it's the jagged, sickly pink BR that dominates each and every city superblock, including one on the ground floor of our Abu Dhabi apartment building—right next to the ATM.
This was a sore and regular disappointment. The texture of the BR tubfuls was either too airy or too crystallized, and their flavors too sweet.
I was a kid who didn't drink soda and either gave away my Halloween candy to my grandfather or hoarded it for years in ceramic jars until it crumbled. Every now and then I'd remove a single Reese's peanut butter cup with great anticipation, ignoring the foil's worn edges, only to spit out the bitter dust deteriorating on my tongue. (Chocolate, unlike Twinkies, goes bad, I was late to discover.)
Though I'm not fond of sugar, I've always loved ice cream. In central Maine, where I grew up, there was a dairy farm called Barnes with an attendant ice cream stand on Rt. 17, the road connecting my high school with my house far outside of town. My pulse rose every time we came within a half-mile of Barnes. (I ran track with Rachel Barnes and frequently wondered how she ever went a day without samples from the freezer.) I know now that Barnes's flavorings were not of top quality, not "real"—the mint and pistachio were unnatural greens—but the fresh milk base made my favorites plenty luscious.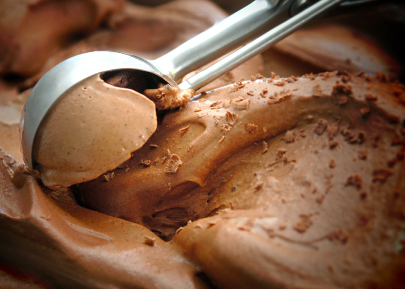 Another childhood memory of particular longing involves peach ice cream crafted from orchard-picked fruit and farm-fresh cream in an old-fashioned hand crank. Grandparents and cousins were present, but strangely I don't remember where this was. I remember the cousins because the sheer number of us meant that I didn't get nearly enough ice cream. For thirty years I've wanted more.
Last summer I found the source of more. So indulge me, this hot and sticky July holiday weekend: a lightly linked post on my favorite fix and the perfect American homecoming.
On the road to Shaftsbury, Vermont, just north of Bennington College, is an 1842 sheep farm whose main buildings have been converted into The Chocolate Barn.  For thirty years, owners Tom and Sue have been making chocolates—spicy, nutty, milk, and dark—but the ice cream adventure began last year after Tom, a former chemist, took a state-certifying course. They have the standards—vanilla, chocolate, maple walnut—but the standouts are their summer fruits: strawberry and red raspberry. These are carefully plucked from neighboring farms and lovingly swirled with local cream into a fruit-chunky and lusciously creamy vehicle of dreams: two huge, dinner-ruining scoops wedged into a crisp waffle cone. Tom and Sue make what they call "adult ice cream"—packed with flavor but not too much sugar. My heros.
(Just passing through? Tom's chemistry expertise means he knows how to deep freeze pints to last a long trip home of up to three of four hours. Order one day in advance.)
The production of sweet, creamy goodness seems to be an attractive supplementary or back up income for couples around the world. Tom's story about his certification reminded me of a recent NPR story about Carpigiani Gelato University outside of Bologna. Students are droving in to learn the Medici-era secrets. I was especially interested to hear interviews with older couples looking for a retirement plan or young ones desiring escape from the uncertainty of corporate employment. Most of these certifying courses are short, ranging from one to four weeks, and ingredients are cheap enough to allow a decent profit. I know ice cream is a commercial product, but many of these entrepreneurs seem to share my view that it's also a public good.
For further bootstrap-pulling inspiration, see this story about three Connecticut high schoolers who started College Creamery to pay their way through higher education.
Tom and Sue say they get a crowd at the Chocolate Barn starting at around 9:30 am, and I was seriously tempted to return Sunday morning, solo, for the strawberry they'd run out of on Saturday afternoon when I sat with two dear friends I hadn't seen for a year, devouring red raspberry chunks, cream, and cone on iron benches outside the barn. But I realized that so often the company is integral to the pleasure. I remembered a long-ago, heat-hazy afternoon along Havana's Malecón with a carton of every flavor a local shop offered, shared with a Cuban woman named Diana I haven't heard from in ten years; tasting corn and avocado ice cream off a Oaxacan square with my parents; an olive oil coppetta at the bar at Otto in New York with a map-making artist friend, and, just last night, a paper cup of salted caramel goats' milk soft serve from artisanal, back-to-the-land Victory Garden in NYC's West Village, shared with my husband in between episodes of Homeland. We've been away a long time, we realize from the amount of American TV we have to catch up on.
For an unexpected and surprisingly funny combination of both summer treats, check out New York magazine blogger and illustrator Jon Defreest's collection of pop culture flavors inspired by hit characters like Arrested Development's Tobias Funkë and Ron Swanson from Parks and Rec.
This weekend, be kind to yourself: Find the best ice cream or gelato near you. Lap it up and go for more. Talk to the owners and get their story. One day share a dish with a loved one; the next, sit on a bench by yourself and think summer thoughts, or no thoughts at all.
Jennifer Acker is the founding editor of The Common.