By NOOR QASIM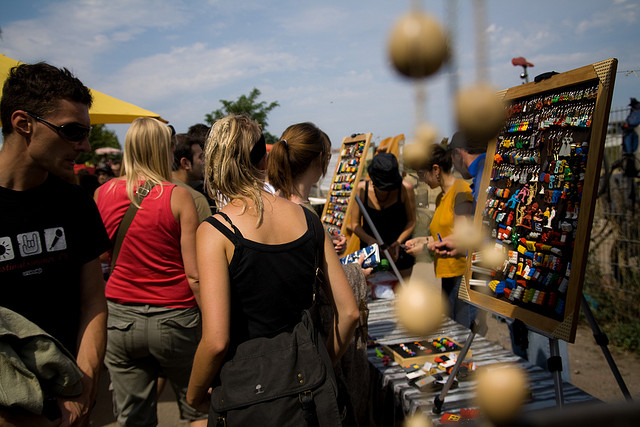 I wake up from my three-hour nap because of a text from my brother.
I'll be there in five!
After reading some texts and checking Facebook, I summon the strength to pull myself off the mattress, leaving the sheets damp with sweat behind me, and approach the red-framed mirror on the bright yellow wall of our hostel room. The nap had been good and deep but my head feels swollen with the heat and the grogginess of an interrupted sleep cycle. My eye-makeup is slightly smudged, which makes sense considering I'd applied it five minutes before I passed out. It didn't have time to dry. As my brother comes in the door, I put on the one pair of shoes I brought that are actually comfortable and throw the Berlin guidebook into my bag. I follow him out of our room, down the stairs, out the door, then towards the Rosa-Luxemburg-Platz U-Bahn station. At 5pm, the real start to our reluctantly lazy Sunday, we hop on the train heading towards the neighborhood of Prenzlauer Berg for the weekly flea market in Mauerpark.
We had started the day ambitiously enough. I had woken up around 8:30am as my brother got back from a run, showered away the sweat of that room, and set out for breakfast at some trendy local spot with plans to take a series of trains to the Friedrichshainarea to explore the East Side Gallery. But by the time we'd discovered that the breakfast place was closed on Sundays, we'd already walked seven extra-long Berlin blocks in the bright light and heavy heat. Over what was now lunch at a burger place, I insisted we stick to our plans despite my brother's pleas for a nap. "We haven't done anything yet," I thought, "Getting ourselves a meal doesn't merit rest."
But shortly after returning to the hostel so my brother could change into something a little more profile-picture worthy, we both sunk onto our beds. Heat blanketed the room. It felt only right to give ourselves a few minutes respite. I briefly protested, but my brother promised we could go to that flea market I'd been nagging him about at 5pm. We'd take a nap, maybe do some reading, but we'd still have time to see another part of the city. My guilt over a day without constant sight-seeing somewhat dissipated, and I fell into a sleep that held me under until 4:55pm.
Now, the train moves from the refreshing cool of the underground into the sunlit heat of an elevated track. We emerge from the Eberswalder station into throngs of people coming from the flea market. As we get closer to the park, the crowd becomes more dense and lively, the sound of German and English and French mouths growing stronger with each block. We turn a corner into the heart of the market: dusty pathways with rows and rows of vendors selling jean shorts, posters, Legos, boxes of random crap, furniture, and of course, beer. My brother picks up a Metropolis poster and I, some hand-drawn creations for my dorm room. The market itself is emptying out as we peruse piles of furniture and beer steins, wistfully admiring all the things we can't possibly carry home on the plane.
After grabbing a beer, we follow the sound of music to an over-packed amphitheater. The park is not quite what I expected of Germany. Everything is dry, the grass unwatered, lone trees dotting the horizon. Gravel paths make our shoes dusty. At the periphery of the amphitheater, people dance, some drunk. Everyone is beautiful and smiling. There's a couple I can't take my eyes off of, pushing each other playfully while gripping onto bottles of weissbier. On stage, eager participants perform karaoke as little kids run across it, back and forth. Hundreds shout along to Outkast and Freddie Mercury. It feels like a festival, but without the entrance fee or pretentious tastes. The heat feels right here, in this urban desert. The sun is getting to me, but, now, in a good way. Time stretches out like bubble-gum, pink and warm and soft and sticky.
I turn to look at my brother as he teasingly begins to sing "Danke schoen, darling, danke schoen…" He'd taken to singing this song, the only German words we really knew, on late-night walks home from biergartens. I always found it embarrassing. He threatens to get on stage and sing it for the karaoke crowd. He'll pull a real life Ferris-Bueller. But here, in this dream-like epilogue to our day spent dreaming, the prospect doesn't twist my stomach the way it might have before. He doesn't follow through on his joking threat, but it would have been okay if he did. It might have been great.
After lingering a while, we walk out of the park, past bands playing on beer bottles, busking the day into sunset. We eat dinner at a place that makes pizzas on naan bread. We scout out an American-style diner for perfectly thick malted vanilla milkshakes. We take the U-Bahn home, and my brother nods off like a little kid in the back seat the second the train starts moving. I stay awake as we descend from the elevated track. We shift into the cool of the underground, but I still feel warm.
Noor Qasim is an Editorial Assistant for The Common.
Photo by Flickr Creative Commons user urbanartcore.eu