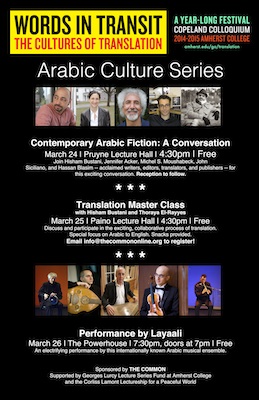 AMHERST, MA. MAR. 12, 2015—From March 24–26, The Common literary magazine and Amherst College's Copeland Colloquium will host a series of Arabic cultural events featuring internationally recognized writers, editors, translators, and musicians. Literary conversations will delve into the largely untranslated world of new Arabic writing, fiction in particular, and a live musical performance will bring Arabic music to local audiences. All events aim to broaden and deepen cultural exchange.
CONTEMPORARY ARABIC FICTION: A CONVERSATION: MARCH 24, 4:30PM
What themes and styles are emerging in contemporary Arabic fiction? What are the opportunities and challenges of publishing these works? Panelists include The Common editor in chief Jennifer Acker, acclaimed authors Hisham Bustani (Jordan) and Hassan Blasim (Iraq), Interlink Books founder Michel S. Moushabeck, and executive editor at Penguin Random House John Siciliano. Pruyne Lecture Hall, Fayerweather Hall 115, Amherst College. Reception to follow.
ARABIC FICTION MASTER CLASS: MARCH 25, 4:30–6:30PM
The conversation continues with a translation master class led by Bustani and El-Rayyes. Drawing on texts in an array of source languages, the master class will focus on important literary considerations for translators, translation techniques, and the experimental and collaborative process of translation. Pruyne Lecture Hall, Fayerweather Hall 115, Amherst College.
Email [email protected] to register.
LAYAALI MUSIC PERFORMANCE: MARCH 26, 7:30PM
The Middle Eastern cultural series culminates in a performance by the Arabic music ensemble Layaali at the Powerhouse at Amherst College. This Massachusetts-based and world renowned group is committed to furthering the appreciation of traditional Arab music and culture through electrifying live performances. The Powerhouse, Amherst College.
Doors open at 7 pm.
You can listen to the following video clips from last year's Iron Horse concert by Layaali:
"The music of Layaali moves the soul and stirs the spirit."
–The Palestine Center, Washington, D.C.
All events are free and open to the public.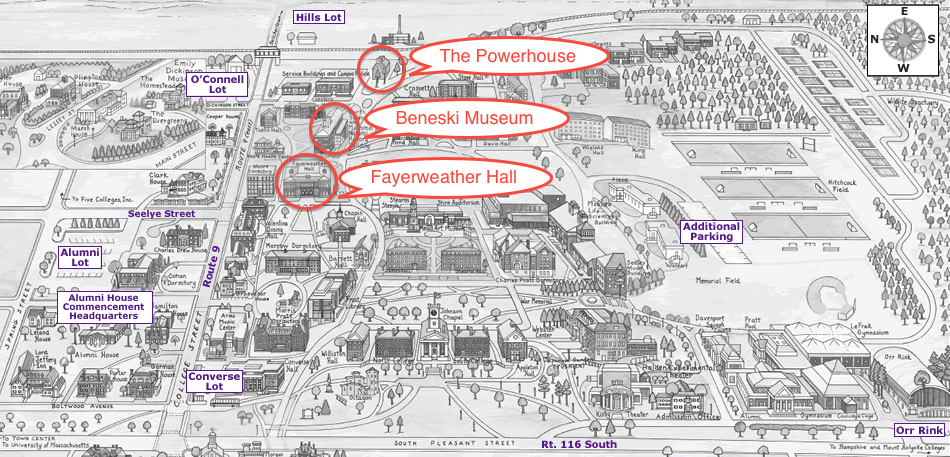 Co-sponsored by The Common and Copeland Colloquium. Supported by the Georges Lurcy Lecture Series Fund at Amherst College and the Corliss Lamont Lectureship for a Peaceful World.
In spring 2016, The Common will publish a special issue of contemporary Arabic fiction in translation, featuring more than 24 writers from 14 countries in the Middle East and Africa.
About The Common (www.thecommononline.org)
The Common is an award-winning, print and online literary magazine based at Amherst College. Inspired by the role of the town common—a public gathering place for the display of ideas—the magazine publishes fiction, nonfiction, poetry, and images that invoke a modern sense of place. Since its debut in 2011, The Common has received multiple awards from the Best American series, a design award from the New York Book Show, and praise for its editorial vision from national media such as The New Yorker, The Millions, and The Chronicle of Higher Education.