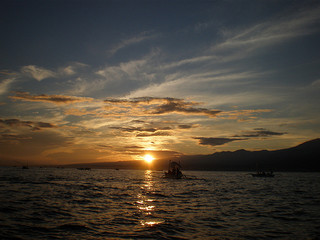 This week, as we look back on the year, I'd like to highlight the work of some of the poets featured in Dispatches. It's sometimes hard to pin a location to a poem, and at the same time, a poem can often take readers more accurately to the heart of a place than a reported dispatch. This year's poems took readers all over the world, from sleepy American towns to European cities to remote forests and islands. Here are a few of my favorites, all worth a second look:
Yvette Christiansë's haunting "Uneasy Sleep", which takes readers to a tiny island in the depths of the South Atlantic;
Cralan Kelder's spare painting of Bali, "Bring 'Em Home";
Krista Leahy's late night in a small town, "Redressed";
Brian Simoneau's view of the Pacific, "Poem With Snowy Plovers";
and finally, poet Kobus Moolman's moving essay about teaching poetry in prison.
Photo from Flickr Creative Commons