By KEANE SHUM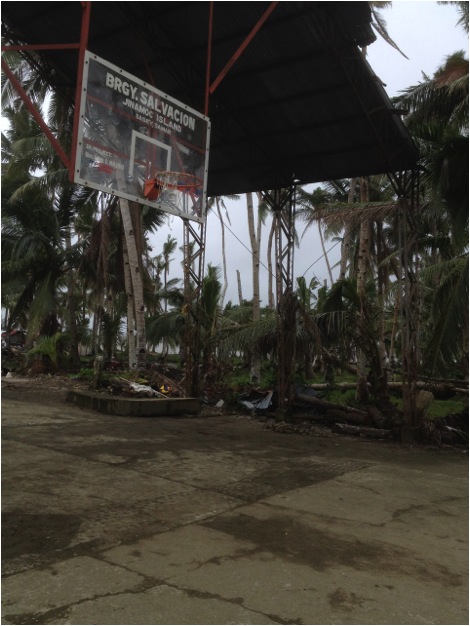 We stood among the wreckage of the barangay captain's house and his furniture shop and his crumbled internet café, where three months ago you could put a ten peso coin in and for a few minutes connect from this little island to the world out there, beyond Cancobato Bay, the San Juanico Strait and Tacloban. CPU shells lay stacked up like carcasses against one of the few walls still standing, ghosts in the machines, severed cables and keyboard drawers jutting out like compound fractures. The barangay captain has not had time to rebuild. He has a job to do; he is the barangay captain.
"Thank you," the barangay captain says to me. "With all my heart."
I don't know what to say.
On the way here, hulking, twisted metal skeletons along the road were all that remained of buildings I had no way of identifying. We crossed from Leyte to Samar over the San Juanico Bridge, the longest in the Philippines and, some say, a gift from Ferdinand to Imelda, the Rose of Tacloban. Its spans and steel trusses arching over our heads seemed like the only unscathed pieces of concrete and metal in this and every barangay for miles. We passed a Red Cross tent hospital not long before we reached the pier, and there a slender boat and its teenage skipper skimmed us across the way to the island.
The one metal structure on this island still upright is a canopy from which hangs a basketball hoop at regulation height. The name of the island is painted in white along the top of the backboard: Salvacion. In these towns, in this whole country, there is a pickup game running on the corner of every few blocks, some on baskets concocted from wooden debris and anything that can be bent into a ring, others on the puddled floor of the Astrodome. A boy in barangay eighty-eight, washed out by flood surges from all sides, walked past our group in a Miami Heat jersey, number six, no "James" on the back. The name on the front is what's important, coaches always say.
Three hundred and eighty families live on Salvacion, and three of every four is living in one of our tents. Deeper into the island, a two-story house stands intact, its modest size and cream paint palatial next to the tents. Two puppies run along its portico as we pass by and learn that it was built by money sent home from a daughter working in Saudi Arabia, money probably earned raising overindulged kids like me. I wonder which of my Filipina nannies built the house on the rock for their family, too.
Surreal is the word I keep coming to here. Looking out the airplane as we landed, and out the car as we drove in, I am supposed to say that I have never seen devastation like this before, and that it wounds me somewhere. But it looks from out the windows as it does up on a screen, at my desk, on my couch. It looks exactly like it. And the feeling inside me is not pain, just a kind of emptiness, a loss for words, sure, only because everything has been said already. And then something like guilt, because I feel so little else.
We give out solar lanterns, to bring some light to the night, but it is too cloudy for them to fully charge; another storm is brewing. Young children, four or six or seven years old, squeal and laugh over how they swam to the third floor of the barangay school, and who was the best swimmer among them, while the eyes of their grandma redden and she clutches her chest with her left hand and a wooden beam with her right, recalling the same story.
As we pull away from Salvacion, ferrying back on the same slender boat, I think of what I should have told the barangay captain, two minutes too late.
"It's our job," I should have said to him. "Like it's your job."
Here and there around the city, "Tindog Tacloban" banners hang from signs of rebirth: a reopened hotel, a fresh wall, a makeshift basketball hoop. Tindog Tacloban. Rise.
Keane Shum is a lawyer and an MFA candidate at the City University of Hong Kong. For more information on the author, visit his website keaneshum.com.
Photo by author.