With ELIZABETH ENSLIN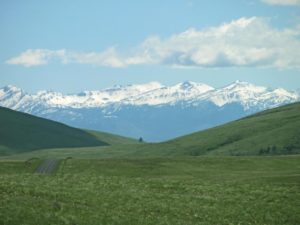 Your name: Elizabeth Enslin
Current town: I live in Wallowa County, Oregon, five miles from the near ghost town of Flora and 45 miles from a town with amenities: Enterprise.
How long have you lived here: I'm a fourth generation Oregonian and have lived full-time in this northeastern corner of the state for about two years now.
Three words to describe the climate: Four distinct seasons.
Best time of year to visit? Spring for mushrooming and viewing wildflowers; Fall for hunting and fishing; Winter for snowshoeing, skiing, and dog sled racing. Summer for backpacking, swimming, horseback riding, rafting, and more.
I can more easily name the worst time of year: February and early March. That's mud season, when the snow begins melting and hoarfrost and fog often settle in. Another season that can be tough is late summer when we may get wildfires and smoke.
1) The most striking physical features of this town are . . . 
The most iconic features of the county are the Wallowa Mountains and Wallowa Lake, but northeastern Oregon is rich with striking features.
I live on the breaks of the Grande Ronde in the northern part of the county: an area of high plateaus split by deep canyons with acres of open grasslands, ranches, and ponderosa pine forests. We also have Hells Canyon, the deepest canyon in North America, plus Zumwalt Prairie Preserve, the largest remnant of the Northwest bunchgrass prairies that used to cover vast expanses between The Rockies and Cascades. The elevation in the county ranges from 1300–1600 feet along the Snake River to 9838 feet at the top of Sacajawea Peak (the highest non-volcanic peak in Oregon). You can find prickly pear cacti at lower elevations and heather surrounding the alpine lakes in the Eagle Cap Wilderness.

2) The stereotype of the people who live here and what this stereotype misses . . .
It's the same stereotype applied to much of the rural West: uncultured people, impoverished social life.
Far from an interstate highway, without a single stoplight or shopping mall, our county is remote. With only 7000 residents (giver or take a few each year) scattered over 3145 square miles, the region is sparsely populated too—especially the North End where I live.
Yet, we have a rich diversity of opinion, educational backgrounds, and life experiences here. And during any given week, especially in the summer, there are more events than any individual could possibly attend: music festivals, rodeos, literary readings, farmers' markets, potlucks, fundraisers, dances, concerts, pie socials, karaoke nights, rockjack building competitions, informal gatherings at taverns and brewpubs, art gallery openings, open mic sessions. The social life gets so busy at times that I'm thrilled to retreat to my remote farm for a brief respite before diving in again.

3) Historical context in broad strokes and the moments in which you feel this history. . .
Much of the cultural activity here revolves around connecting past and present.
This was the homeland of Chief Joseph and the Wallowa Band of the Nez Perce (Niimíipu), who were driven out in 1877. Now, every July, many Nez Perce return to host a public celebration of culture and heritage: Tamkaliks. On the last day, they provide elk and salmon for a Friendship Feast. Anyone can bring a potluck dish and join in.
Museums, plowing bees, and workshops in blacksmithing or Dutch oven cooking capture the history of early homesteading here. One new organization sheds light on the early days of logging, especially the often overlooked role of African Americans and immigrants.
Our nearest neighbors have roots going back generations and often tell stories of rounding up escaped pigs or carrying fiddles on horseback to attend barn dances.

4) Common jobs and industries and the effect on the town's personality. . .
Ranching and farming are the most common. Many of the beef cattle are for the commodity market, but some ranchers sell directly to consumers or to restaurants. Farmers raise grain (wheat, barley) and hay. Most of that is for export. Some neighbors have told us their dryland hay travels as far as Saudi Arabia and Dubai.
Each small town has its own character. Joseph thrives on tourism and the arts. Enterprise is the commercial and government center with some manufacturing and a new hospital. Lostine is a hub for our local food movement and tractor repairs. Imnaha gathers locals and visitors together in its rustic local tavern, which often stocks rattlesnake meat in the freezer. Flora attracts visitors interested in the historic school and other remnants of a once-thriving town.

5) Local/regional vocabulary or food?
Local potlucks seem to revolve around slow-roasted pork and homemade pies. Wild foods are popular here, too: morels in spring and huckleberries in late summer. Hunting for deer and elk is a fall ritual for many families and also an affordable way to put extra food in freezers.
We raise pastured pork on our farm, but Wallowa County is especially renowned for grassfed beef. Some ranchers supply restaurants as far away as Portland and Seattle. Microbrews, locally distilled whiskey, and artisan chocolate have also been winning regional and national attention.
That said, our county is a food desert in terms of grocery stores, and affordability and accessibility, and can be challenging for those on low incomes. Food banks and generous donations from local farmers, ranchers, and others help to fill some of the gaps.
Elizabeth Enslin is the author of While the Gods Were Sleeping: A Journey Through Love and Rebellion in Nepal, which won an Honorable Mention for a 2014 IndieFab Book of the Year Award in Autobiography/Memoir. 
Photo: Wallowa Mountains from Zumwalt Prairie (credit: Elizabeth Enslin)