By MARIAN CROTTY, NICK FULLER GOOGINS, GRANT KITTRELL, SARAH SMARSH
How much more palatable is any dish when "imbued with the stories of home"? We're exploring that this month in our recommendations, which variously braid entertainment and education in their reading experiences. Grow as a writer, a poet, a consumer, a human being—and do it while laughing, remembering home, or teetering on the edge of your seat.
Recommended:
The End of Vandalism by Tom Drury, The Door by Magda Szabó,Ennui Prophet by Christopher Kennedy, Bread, Wine, Chocolate: The Slow Loss of Foods We Love by Simran Sethi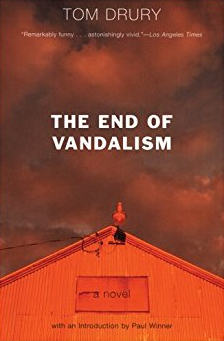 The End of Vandalism by Tom Drury
Recommended by Marian Crotty (Assistant Editor):
The End of Vandalism is Tom Drury's first novel, written in 1994 but reissued last year. Set in the fictional Midwestern Grouse County and filled with the small details of everyday conversations, the book is both a love story between two people and a portrait of an insular Midwest community. Kind, observant, and very funny.
The Door by Magda Szabó
Recommended by Nick Fuller Googins (Fiction Contributor, Issue 10):
My father gave my wife The Door for Christmas, and as soon as we were back home I promptly stole it from her. A few weeks later, I'm happy to report a well-chosen theft.​ The Door—written in Hungarian by Magda Szabó and brought to us English speakers thanks to Len Rix and New York Review Books—is a mystery at heart: an elderly, eccentric maid allows no one into her apartment. What lurks behind her door? This single unknown eats at narrator and reader alike, providing a simple but increasingly sharp tension that pushes the novel. The real joy, however, can be found in the relationship between the maid and the woman who hires her. Immensely complex, and drawn over many years, their connection is sometimes humorous, sometimes touching, and at other times darkly tragic; in other words, real to life. Lastly, for the writer part of us that can't enjoy a book without also learning from it, The Door offers a fantastic model of how to craft a narrative that is both retrospective and thrilling.
Ennui Prophet by Christopher Kennedy
Recommended by Grant Kittrell (Poetry Contributor, Issue 10):
As with many of Kennedy's collections, I frequently return to this one. Kennedy has the distinct ability to complicate a line well past its own dimensions—despite the contradiction, or the outward simplicity of any particular line. What's most moving is how much Kennedy can communicate off the page, slip a coin behind your ear from some distant dreamscape high ground, pull it out to both amuse and baffle. The mutated world often becomes its own character, sticking its puppet hands into the speaker's affairs—or perhaps it's the other way around? In the poem "Need Some Eyes for your Next Puppet?" the speaker attempts to play God by constructing a puppet in his "own likeness." After proposing the possibility of using his own facial organs to complete the job, the speaker ends by stating, "I could sit in total silence and show you what it means to be God." The gravity of this kind of latent desperation and its dislocated conclusion ripples far past its own comedic effect, and makes this collection a more precious read each time around.
Bread, Wine, Chocolate: The Slow Loss of Foods We Love by Simran Sethi
Recommended by Sarah Smarsh (Nonfiction Contributor, Issue 08):
Where so much environmental writing focuses on ways in which we must temper our consumption, Bread, Wine, Chocolate takes the refreshing tact of suggesting we rekindle our passion for it—not in quantity but in diversity and quality. With sensuous intimacy—the woman loves her some chocolate—longtime environmental journalist Sethi explains the threat monocultures pose to foods the world holds most dear.
I know Sethi beyond the page and can attest that, while her meticulously researched work is at the progressive fore in matters of sustainability, her politics never disconnect from her taste buds. What world is worth saving that can't also be savored? Years ago she came to a Christmas party where I was offering sliders made of grass-fed, family-farm beef my grandma had sent me in a cooler—the meat I'd been fortunate to grow up helping butcher and eat. Sethi hadn't eaten beef for years but felt somehow moved to try the sliders, which I'd just imbued with the stories of home. As an author, too, Sethi makes the matter of food and agriculture not just a global matter rife with corrective imperatives but an imperfect, lust-driven defense of things that taste delicious.