Hold Still by Sally Mann
Recommended by Jacquelyn Pope (Poetry Contributor, Issue 02 and Issue 09):
I've admired Sally Mann's photographs for many years, chiefly because of the way they capture what is both magical and damaged about the South, etched right into the landscape. Hold Still is a "memoir with photographs," as the subtitle modestly states—and what a mighty memoir. The sensuality and documentary thoroughness found in Mann's photographs also characterize her prose. Her deep ties to Lexington, Virginia, to her family, to a natural world permeated with spiritual life, to history and to art are described with energy and detail. She knows how to tell a story: her writing is every bit as evocative and powerful as her photographs. The book itself was published with care and is a handsome object, befitting its contents. Hold Still is a treasure.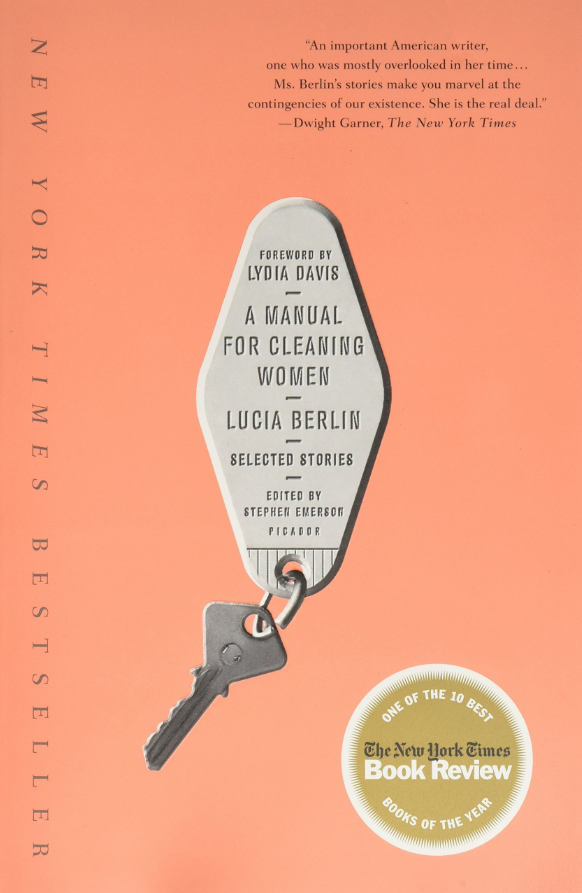 A Manual for Cleaning Women by Lucia Berlin 
Recommended by Nina McConigley (Nonfiction Contributor, Issue 09):
Okay, so this book is technically out in August, but I got my hands on an advanced copy—and I can tell you, you'll want to put it on your to-read list now. Lucia Berlin died in 2004, and I can't put down this collection of her selected stories—there are over 40 stories in this collection. Publisher's Weekly says she's the best writer you've never heard of, and her work has garnered comparisons to Grace Paley and Alice Munro. But I am loving this book because of Berlin's ability to make the ordinary extraordinary. She writes about normal lives—from hitchhikers to cleaning ladies, and does it with such compassion and grace that it almost knocks the air out of you. These stories will hit you in the gut—I dare you not to love them. Her voice is pitch perfect, and each story with its varied settings and characters, kept me reading late into the night.
The Spark and the Drive by Wayne Harrison
Recommended by Jane Campbell (Dispatches Contributor):
In the opening of Wayne Harrison's The Spark and the Drive, the narrator, an 18-year-old vocational school graduate says, "The word that comes to me bypasses my brain, is simply there from unthinking organs, and it is both for this ride and for the entirety of the summer. Glorious." When I read this, I knew this book was special. Harrison's ability to capture the adrenaline-driven, heartbreaking feelings of being young, along with sharp prose which lets you know who a character is just by the way they put out a cigarette was enough to make me fall in love. The book is set in Connecticut, but we get a strong sense of mysterious and free spirited Oregon (my home state) as well, through Justin's experiences with Mary Ann, the wife of his boss and mentor, Nick Campbell. In one scene, Justin is at Mary Ann's house and takes a peek at her photo albums to discover more about her. "I took out one that said OREGON COUNTRY FAIR, expecting to see Ferris wheels and fireworks. The first set of breasts I saw made me sweat a little, and I kept one eye on the hallway." Harrison's novel is like my favorite Bruce Springsteen songs, with his delicious descriptions of classic American muscle cars and an uncanny understanding of working class life best experienced during the glory of summer.  And one more thing: the sex scenes are excellent.
Barefoot Dogs by Antonio Ruiz-Camacho
Recommended by Lori Ostlund (Fiction Contributor, Issue 09):
Barefoot Dogs is a linked story collection that begins in Mexico City in 2004 with the abduction of the Arteaga family's patriarch and follows the subsequent flight of his children and grandchildren to Texas, California, New York, and Madrid. While the broader canvas for this collection is the violence that has beset Mexico, Ruiz-Camacho, who grew up just outside of Mexico City, does not linger on this violence (though neither does he shy away from it). Rather, he focuses on the ways that it affects this one family. The Arteagas are entitled, accustomed to being wealthy in a poor, increasingly troubled country. In their new homes, they find themselves without power, immigrants in countries where their wealth does not make them unusual and where their individual fears, weaknesses, and loneliness become increasingly assertive. Ultimately, we come to suspect that they feel their father's disappearance less as the loss of a father than the loss of privilege. One of the things that I most admire about this collection, especially because I know, as a writer, how hard it is to achieve, is that Ruiz-Camacho allows us to feel a full range of emotions toward his characters, including disgust and understanding.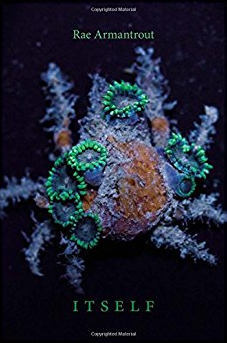 Itself by Rae Armantrout
Recommended by Diana Babineau (Managing Editor):
In Itself, Rae Armantrout grapples with the ironies, oddities, and strangeness of human existence, of being a being caught somehow between the enormity of the universe and the infinitesimally small particles that make it up. Her poems challenge our supposedly solid understanding of the world, blurring the lines we thought were so clear between the material and nonmaterial, place and void, self and the particles that make up the self. With her sparse, quick-turning stanzas, Armantrout's wit shines through in her ability to estrange the reader from him/herself, as when she writes, "but we all / come down, // to self-love, / self-love which, // like a virus, // has no love / and has no self." Itself is at once beautiful and deeply thought-provoking, stretching thought and language into the void, encouraging readers to search through the blank spaces between words, lines, and pages for the multiple meanings—but more often questions—reverberating through them.