By MARIA TERRONE

In which authors write about their objects and the places they've been
Magic the shawl that kept slipping down my bare, 20-year-old shoulders—a garment possessed but impossible to hold.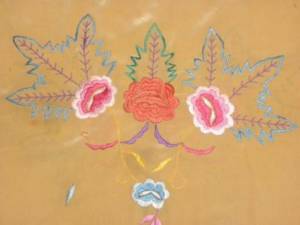 I haven't looked at it for many years, but I see it clearly in my mind's eye: gold silk, deeply fringed, and embroidered with multicolored flowers, bought in Granada on my honeymoon. In Europe for the first time, living on $20 a day, we were on a month-long journey across Iberia. I had known I wanted something transcendent that, in the future, would return me to that time. The new Spanish shawls displayed on racks in the town square were too expensive. But others were arrayed on white cloths over the ground like sumptuous bounty brought home by an explorer.  Silk can't have a patina, but it seemed to me that the shawl I chose had a depth and richness the new ones lacked. And it was priced lower because it had been "pre-owned." By how many generations? The answer didn't matter—in fact, its appeal strengthened. I imagined the shawl that was now mine once worn by a beautiful flamenco dancer–pulled tight against the sirocco years earlier by her equally ravishing mother. Its mysterious provenance shimmered.
And still, the Spanish shawl has the power of a talisman. It is the youth and passion of a very young couple beginning life together, as well as the fierce and sometimes dark beauty of Andalusia. It embodies the sum of new experiences. Dipping fingers into the bubbling waters of a carved Alhambra fountain. Eyes sweeping across acres of giant, nodding sunflowers. Stalling, and then breaking down, in the Sierra Nevadas. Sitting inside a café in a border town at dusk, dogs wandering in like bachelors sniffing the air for action.
For many years, I wore the shawl only to weddings, a good-luck charm whose aura might touch the newlyweds. Eventually, I placed it at the bottom of a bureau drawer. I don't know if the fabric is growing fragile, once-bright threads rotting.  I can't help thinking that if I were to expose it to the air and light of the twenty-first century, it would crumble before my eyes like ancient Roman frescoes discovered during digs.
And so my Spanish shawl stays out of sight. I wear it in my imagination, walking medieval streets in relentless summer sun with my husband. A man sweeps the cobblestones with a brambled broom, two children leaping by his side. Down another narrow street, an old woman sewing in the shadowed doorway of her home looks up the instant we snap her photo. That night, as dancers swirl their skirts and stamp their feet on a tiny stage, we'll clink goblets of Rioja, and the wine will be a life-giving elixir.
Maria Terrone, the author of four books of poetry, has had work in such magazines as Poetry and Ploughshares, and in more than 25 anthologies. Nonfiction credits include Green Mountains Review, Witness and Litro (UK).

Photo by Maria Terrone