Curated by SOFIA BELIMOVA
Things are finally warming up here in Western Mass: old snow banks are melting and fuzzy buds are popping up on the trees. Our spring issue—which features a portfolio of stunning fiction from Kuwait, apocalyptic poetry, a Ramadan romance, and a story about a dog in a Texas barrio—launches in just a few short weeks. If you're wondering where these writers get their inspiration, look no further than this round of Friday Reads.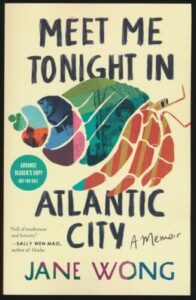 Jane Wong's Meet Me Tonight in Atlantic City, recommended by Anna Badkhen (Issue 25 contributor) 
Read Jane Wong's memoir Meet Me Tonight in Atlantic City above all for pleasure—but also to contemplate how the ghost archive functions on personal and collective levels. Wong, who has published two spellbinding books of poetry, interrogates absences of records: of her childhood in an Atlantic City restaurant, of her relatives' starvation in China during the Great Leap Forward. She asks what happens when you experience a missing memory generations later, like a phantom limb—what Mary Ann Hirsh describes in Family Frames as "postmemory." Other writers have looked at the selectiveness of archives as an instrument of oppression and colonization—think Saidiya Hartman, or Ariella Azoulay in Potential History, or Yuri Herrera in A Silent Fury; Wong offers us an opportunity of questioning, more intimately, the way memory reveals and conceals, especially when it concerns traumatic events. "Memory was a literary genre / before writing was born," writes Eugenio Montale. "Memory," responds Ocean Vuong, "is a choice." How to write into the gaps in the archive? What can be born from these absences? 
The book is forthcoming from Tin House in May.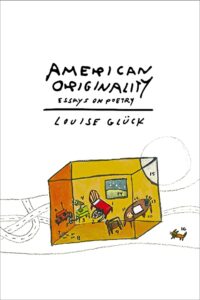 Louise Glück's American Originality, recommended by Tina Cane (Issue 25 contributor) 
I am usually reading five books at a time and almost always there's a long novel in the mix. This means my mind is often shifting between a series of planes and that my bedside is somewhat messy. I suspect many writers read this way, because it's actually very satisfying.
One book I keep dipping into these days is Louise Glück's collection of essays, American Originality (Farrar, Strauss and Giroux, 2017). I can often measure how much a piece of writing means to me by how much I wish I had written it. I can often know how much I value a writer's mind by how much I wish it were mine. It's not about envy, but admiration and my hunger for instruction through proximity.
Louise Glück's essays reinforce these wishes in me, for they reflect the same fierce, formidable, often lyric sensibility found in her poems, but with her penetrating gaze trained on contemporary American poetry. Glück's examination of the state of poetry is also that of the larger culture ("We live in a culture almost fascistic in its enforcement of optimism"), and the broader history of literature itself ("The poem is a revenge on loss, which has been forced to yield a new form…").
With pieces like: "American Narcissism," "The Culture of Healing," and "On Revenge," this collection comprises not just which subjects Glück considers worthy of discussion, but fairly dictates the agenda of why. Americans aren't original in their resistance to decree but, when a mind like Glück's speaks so incisively on writing, we poets should take heed. From "Ersatz Thought": "I prize… instinct, guesswork, nerve. But it may be that certain forms and choices need to be reviewed more closely than others, particularly those forms in which theory and intention displace scrutiny." Duly noted.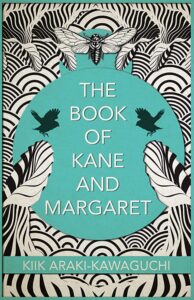 Kiik Araki-Kawaguchi's The Book of Kane and Margaret, recommended by Sean Bernard (Issue 25 contributor)
This collection of stories, which for me resides on a very special bookshelf alongside Italo Calvino, Lucia Berlin, Álvaro Enrigue, and Sara Majka, received the 2019 FC2 Sukenick Innovative Fiction Prize—innovative here being key. The premise seems simple: during World War II, teenagers Margaret Morri and Kane Araki and their families and many other Japanese Americans are forcibly interned at a relocation camp where they go about their days, waiting for the return of their freedom. Or… are they teenagers? Because in one story Kane is an eminent orthopterologist, in another he's eight inches tall… or a meteorologist… or afflicted with awesome sneezes, or wings, or whiteness. And sometimes he's not there at all, and the focus shifts to Margaret, his sometimes wife, sometimes girlfriend… and sometimes murderess or journalist, healer or laundrywoman, or once, even, a mothly ghost. Story by story, the relationship between Margaret and Kane curls, spreads, withers, dies, and grows anew. Through this wondrous evolution, we gratefully experience three writerly miracles: the first is one of the most complex, surprising, and loving relationships in recent fiction. The second is the boundless humanity of a captured people so vastly superior to the narrow fences in which they're caught. The third miracle is Araki-Kawaguchi's project itself: its dual lightness and depth, its sorrows and joy, its magic and mundanities. Holding this book in your hands is testament not only to the real experiences of the author's grandparents, the titular Kane and Margaret, but also to the limitless possibilities of fiction.