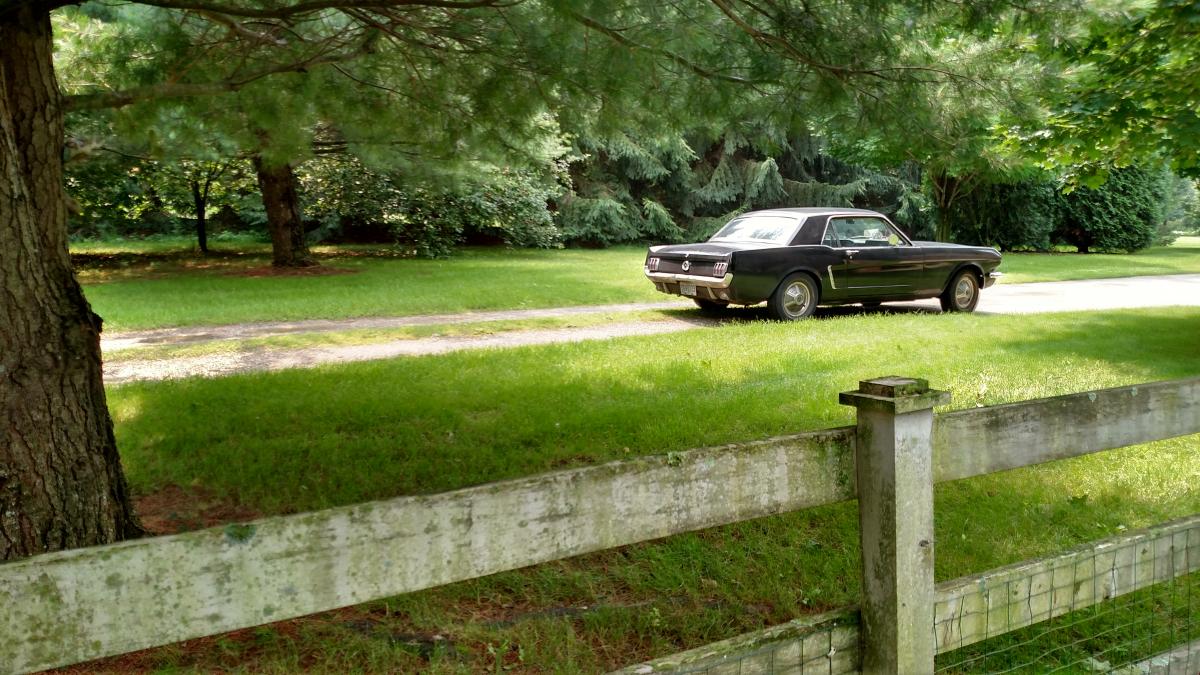 We decided we'd stop for the night in Denver while eating at a Taco Johns in North Platte, Nebraska, and scanned the Expedia app on my phone. There was a 4-star hotel in the suburbs northwest of the city on sale for 86 bucks, so I reserved a room because it was the same price as the Best Western.
We'd been on the road for 15 days. Jane and I left Oregon with my two barely teenaged sons, taking our '65 Mustang on a cross country trip. We saw bison and geysers in Yellowstone, slept in a rest stop near Deadwood, drove through the Badlands, pretended to whitewash a fence in Hannibal Missouri, were nearly blown off the bridge crossing the Mississippi by a microburst tornado in St. Louis, and finally ended up at my mother's farm along the Ohio river in southern Illinois.
It was the first time Jane had met my extended family. It was the first time the boys connected in a real way with my stepdad, driving around the farm, shooting pistols, riding in his '41 Chevy hot rod. It was a homecoming. I rebuilt the front brake cylinder on the Mustang in the shop before church on Sunday. We went fishing at my mom's back pond, and sat on her porch counting over 50 hummingbirds at once, buzzing around her feeders.
We took the ferry across the river to Amish country in Kentucky, and on the way back, visited Cave-In-Rock, where pirates had once lured river travellers into the darkness. Jane, who had grown up on the Oregon coast, saw fireflies for the first time there.
"What's that sparkling," she had said.
I smiled. "Oh, it's lightning bugs."
She stood, watching the chartreuse lights pulse on and off amongst the trees. "I had no idea they'd be this beautiful. It's like a forest out of a fairy tale."
And she was right. I'd known them my whole life, captured them in jars and crushed them in my fingers to see my hands glow in the dark. Sometimes you can't see the beauty of your home until you see someone else experience it for the first time. It was like a glimpse of childhood.
After dropping off the boys with their other set of grandparents in Illinois, Jane and I headed on, without much plan or schedule. We visited a friend in Columbus, Ohio and heard a bluegrass band comprised of old timers in pearl snap shirts and dreadlocked college kids wearing tie dye. We stayed in the Palmer House Hilton in Chicago with it's gilded lobby and painted ceiling, listening to the mostly male attendees of a tech conference hanging out in the hotel bar talking jargon like most people talk about sports or religion. We walked a block for deep dish pizza at midnight, then spent the next day wandering through the Art Institute, saying outloud, "I can't believe we're standing in front of this." Degas. Serat. Lautrec. Hopper.
Then on to Minneapolis, to stay with old friends. Now in full summer, everyone was outside, living into every last moment of warmth before the long freeze came in just a few months. We visited the sculpture gardens, Jane getting to see the Oldenburg spoon and cherry, something she'd dreamed of since seeing a picture hung on her first grade classroom wall. Independence Day, we drank rhubarb and vodka slushies and sang tunes while I played guitar, then out for dinner in St. Paul, followed by midnight walks through the empty streets of the neighborhood trying to follow the sound of exploding fireworks only to end up in a playground where the three of us—Betsy, Jane, and I—swung on swingsets and played in the sand.
When we left the next day it was for home. Across the prairie and onto the plains of Nebraska, the drive quiet under rainclouds. We were still days away, but the sense that the trip was ending fell over my thoughts, and I became restless.
It was in the 4-star hotel in Denver, a sprawling golf resort empty on a weeknight, that I knew something would change when we returned. When we left there the next morning, a family stood together in the lobby taking pictures, dressed in bold colors and looking like they were cast in a movie about someone returning to see relatives after a long absence. Maybe for a funeral or a wedding or some other reason that families come together—maybe 4-star hotel rooms for under 100 dollars a night.
From there we were 19 hours drive time from Oregon. Less than a day. And yet too far to make it without spending another night on the road. The last day of any journey is usually one filled with the longing for home, for one's own bed, but the penultimate day of a trip is a day of melancholy. We didn't know then that by summer's end we'd be moving to Portland, off on another adventure. But a long journey changes you. Some are glad to return back to the known world. But some of us feel stagnant and lost in familiar surroundings after crossing so much ground.
It rained all across Wyoming, until finally we reached the Utah border at sunset and the canyons leading into Zion were lit with golden hour. We stopped at the old Temple at dusk and walked around the grounds where biblical figures stood carved in stone next to American pioneers, New World saints, and it felt like being in some alternate universe where mythologies were familiar but like nothing you'd known before. We stayed there until the security guards politely told us they were locking things up, and we left smiling and quickstepping along the wide streets, ready to drive on just a little further that night, and then on to the end of that westward trail, where a new life awaited us in the green valley that lay between mountain ranges running parallel to the sea.
James A. Gill is the Dispatches editor for The Common.
Photo by Jane Campbell.